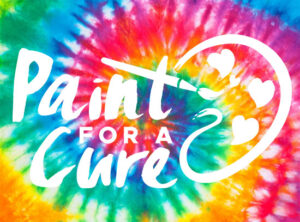 Join us online for a great event on Wednesday, July 15th at 6PM PST! We will be tie dying shirts on a Zoom Call! Your donation will get you a tie dye kit and a Paint For A Cure shirt to dye! You have the option to donate an extra $25 to help the families affected by ALS, and a donation of $125 will get you 1 tie dye kit and 2 Paint For A Cure Shirts!
Notes:
Registration is now closed THANK YOU!
Please let us know what shirt size you would like in the comment section of the donation form.
Our friend Alli Marconi will be helping us put some fun in to our tie dye!
Alli Kritz Marconi is the designer and founder of CEO Intimates, a loungewear collection designed for breast cancer patients and supporters alike. She founded the brand after losing her sister to breast cancer in 2015. The majority of the collection is hand tie-dyed by Alli, including jumpsuits, rompers, hoodies and face masks. A portion of every sale is donated to Breast Cancer Angels, a nonprofit that financially and emotionally supports mothers undergoing breast cancer treatment. Alli lives in Newport Beach, CA, with her 1.5 y/o daughter Allora, husband Scones, and two dogs named Best & Worst. When she's not busy tie-dying, you can find her at the beach, in her vegetable garden, or practicing yoga.