Paint For A Cure is dedicated to supporting families impacted by ALS. With your generosity, we are easing the financial burden caused by this disease. Watch as we carry out our mission and deliver support to PALS and their families. Thank you for your donations and ongoing support!
Rachel martin was diagnosed with ALS just before her 40th birthday. and We are honored to be able to provide the funds to add a master bedroom and shower to the first floor of their home.
Chris Stoeckel was diagnosed with ALS October of 2018. They have three beautiful kids from the age of 14 to 22. Paint for a cure funds will help with getting a new handicap van for Chris. Thanks to everyone's support we are able to help another family effected by ALS 
Our purpose is to lessen the burden for families facing ALS!
Oleksii Cherednichenko and family, we wish you the best and know you are not alone in this fight! 👊🏼 It is our pleasure to be of help and a part of your journey. 
❤️At PFAC, we love helping ALS families❤️ We intended for a check presentation surprise for John, but unfortunately he lost his battle with ALS the day before our surprise visit. Thanks to a generous grant from the Hear Me Roar Foundation, PFAC was able to deliver a check for $5,000 to John's family to help them with all of their expenses.
❤️ PFAC absolutely loves being a conduit of hope in the lives of ALS families ❤️ Eric and Jen had the pleasure of meeting Majid and his wife Marilyn Beck at their family home to deliver some great news (and some money)! Majid was diagnosed with ALS a little over four years ago and thanks to funds from the Hear Me Roar Foundation, PFAC was able to deliver a check for $5,000 – to help them in the process (and high costs) of building out their home to be wheelchair accessible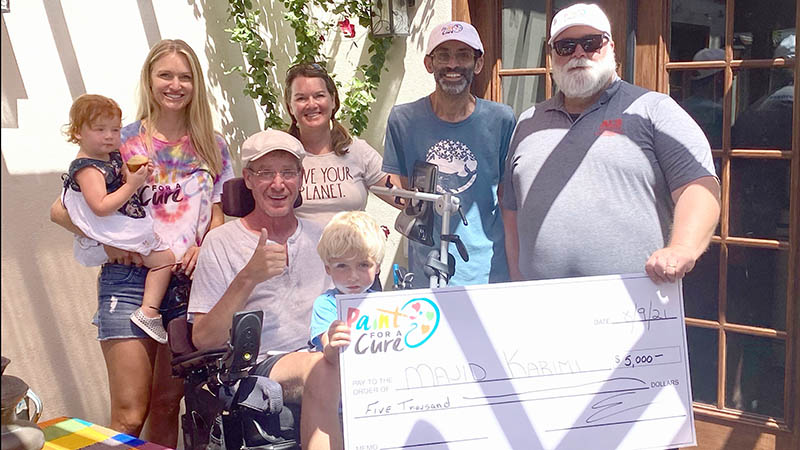 A moving moment presented to Josh Proulx's and his family. Diagnosed with ALS in 2020, Josh now fully relies on a wheelchair and the support of his family. We see you Josh and hope this helps lessen the burden. Stay strong and know you are supported!
Such an honor to have met the Kalpakoff family via zoom. Shaun was just 35 years of age when diagnosed with ALS. He is staying strong and keeping a good positive attitude. Thanks to your continued support we are able to continue helping families like the Kalpakoff family affected by this disease.
Castro Family & Martin Family
Paint for a Cure was able to help two wonderful families become much more mobile. Thank you Chris Proudfoot and all the donations to our organization we were able to get two handicap accessible vans to these lucky families. Thank you so much for your support, helping one family at a time.
Recently, we had the pleasure of helping the Thompson family remodel their bathroom. Unfortunately, Darin Thompson lost his battle against ALS. However, your generosity inspired his wife Nikki to help others and she introduced us to the Bereman family. Nikki and her adorable children presented Michael Bereman and his family with a $5,000 check to help with the expenses incurred by ALS. Thanks to your extraordinary support, we will continue to help families in their fight against ALS.  
In 2016, Charles Hafslund was diagnosed with ALS and was recently placed on hospice. Due to his diagnosis, the Hafsflund family found themselves in need – struggling with debt. medical bills and supporting their two children. Paint For A Cure is proud to help them make and ends meet and we are so grateful for your ongoing support. 
It was such a pleasure to help the Ewonce family. This $10,000 donation will  be used to help ease the financial burden brought on by ALS. Thanks to Len Splane, Cory Muro, Chantal Joseph, and the Jam for a Cure team we were able to help yet another family affected by ALS.
It was such an honor to meet the Brown family and help deliver a couch donated by a Paint For A Cure supporter. David Brown was diagnosed in October 2019 with Bulbar ALS. Unfortunately, David lost his job when his diagnosis robbed him of his ability to speak and as the disease progresses the family's fourth-floor apartment is becoming a nightmare. The Brown family dreams of traveling the country in an RV to create happy memories as a family.  Paint For A Cure hopes to assist in making this dream a reality and thanks you for your amazing support. 
Brett Lehto was diagnosed with ALS in 2019. He has since lost his ability to speak and relies on a device to communicate. Brett and his wife, Jenifer, have four kids ranging in age from five years old to fourteen years old that keep them plenty busy. On top of parenting, Jennifer works full time and then some to support their children and meet their family's needs. Paint For A Cure is happy to step in and help the Lehto family make ends meet. Thank you for all you do to support our families living with ALS.  
Darin and Nikki Thompson have been married for over 10 years and have two wonderful children. Darin's ALS diagnosis called for a bathroom remodel to make it more accessible and functional for him. Paint For A Cure is honored to help with the expense of this much-needed renovation. 
To show appreciation for our caregivers of patients with ALS, cALS, Paint For A Cure gave away $1,000 to five deserving individuals. We extend our sincerest appreciation to all of our caregivers for their sacrifice and devotion as they navigate the terrible effects of ALS. Without your support, none of this would be possible!
Thank you to the cALS, Amy Michaud, Taytum Popp, Irene Mikitarian, Jesalyn Asafyeva, and Lonnie Price for all you do!
The Futch family has a young daughter with ALS. Paint For A Cure was happy to help out with a monetary donation to assist them with covering the expense of a bathroom renovation to accommodate the needs of their daughter.
Kelli's husband Michael, recently passed away due to ALS. Together, they have three beautiful children. Paint For A Cure is beyond grateful for your support, which allowed us to provide a financial gift to help Kelli as she raises her children.
John Castro has a loving wife and two young twins. They needed a home that could better serve them as they live with the burdens of ALS.  Paint For A Cure is honored to help the Castro family as they adjust to life with twins and ALS. 
The Graves family is currently facing the challenges that ALS brings. They have a two-year-old son, and Paint For A Cure is grateful to be able to help them financially as they deal with the burden of this disease.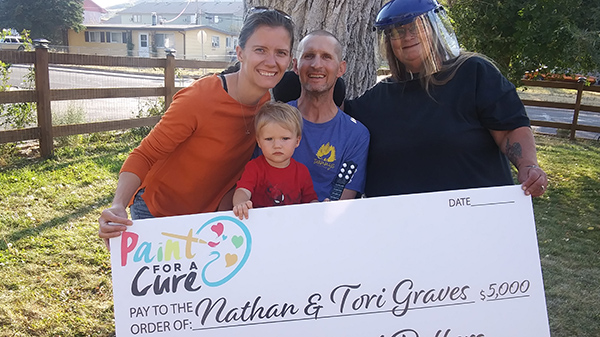 Jeff and Mindy needed help renovating their home to make it more accommodating to a person with ALS. With your generous donations, Paint For A Cure was able to assist them with the much-needed renovations.